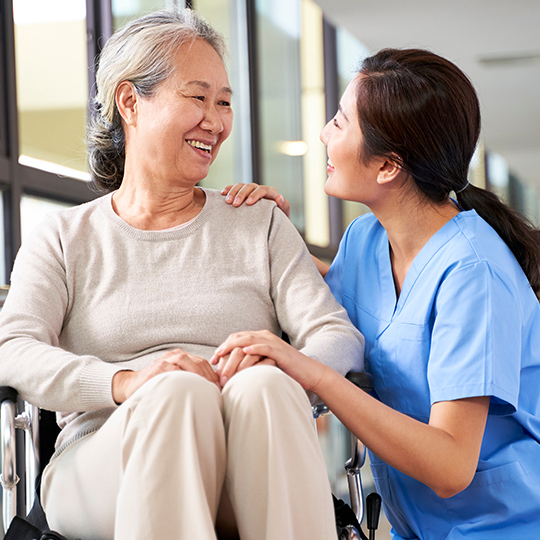 Personalized Care & Support
Cognitive impairments affect over 16 million people in the United States, making daily tasks challenging for many individuals. These conditions can negatively impact one's abilities to perform tasks successfully and can make living alone intimidating.
We try to focus on providing as much independence as possible for our residents while ensuring they have access to 24-hour support should they need it. We acknowledge and respect our memory care residents' needs and consistently strive to offer a compassionate environment for all.
Support to Make Your Life Easier
Meaningful activities and structured routines play an important role in helping our residents maintain freedom and individuality. Our community is completely safe and secure for our residents and their loved ones' peace of mind.
We work hard to create and tailor customized care plans to suit the individual needs of each resident. We always consider our community members' diversity and diligently work to support each resident and their family as one.
Flexibility is paramount in offering care for all residents. We understand that situations can change in a moment's notice, so we ensure we have the ability to adapt. Our highly-trained and compassionate staff is here to help you through difficult changes so you can feel comfortable and cared for.
Identifying Level of Support
If you're interested in our memory care facilities, you and your family can meet with one of our registered nurses to determine the level of care needed. Services offered include:
Bathing
Dressing
Personal hygiene and toileting
Eating assistance
Medication assistance
Transferring assistance
Enriching Connections is a program offered by Kettle Park that puts a specific focus on residents with dementia. Through Enriching Connections, our staff is trained to serve our cognitively impaired residents with the highest level of care.
With Enriching Connections, we can create specialized care programs for each resident while respecting their freedom and abilities. The program is based on 7 foundational elements:
Relationships & Community: Every individual is invited to belong.
Commitment: Our organizational leaders are actively involved and committed to preserving our culture of person-centered care.
Certification & Training: All management and Memory Care staff members are certified in dementia care through the Alzheimer's Association and complete additional dementia training.
Services: Families can focus care plans that promote personal preferences, dignity, and independence with the aid of our nursing staff.
Meaningful Life & Engagement: Inspire Wellness for Life is the core program that allows us to promote and maintain the best quality of life.
Environment: We are dedicated to making continuous improvements so every Tealwood community maintains its dementia-friendly environment.
Accountability: We continually monitor our processes, operational plans, and culture to sustain our high standards for quality care.
Memory Care May Be a Good Option If…
Cognitive impairments, such as dementia, are making independent living unsafe.
Your health is at risk.
Your needs are beyond your loved ones' abilities.
You're neglecting your responsibilities and relationships with others.
You'd benefit from the structured care of our Memory Care community.
What You Can Expect at Kettle Park
Our Memory Care residents will receive the following services:
Assistance going to and from meals, events, and appointments
Regularly scheduled care conferences
3 chef-prepared meals a day
Housekeeping
Laundry
And more
Experience All Kettle Park Has to Offer
Kettle Park is specially designed to accommodate a wide variety of residents, including those with cognitive impairments. We genuinely strive to help our residents feel happy and comfortable in their new lives.
Some of the features and amenities that members of our community enjoy are:
Big, airy walkways
Activity centers and recreational programs
Secured outdoor spaces
Grand bath with whirlpool spa
Apartment Amenities
Private apartment home
Kitchenette
Bathroom with shower
Utilities included, except phone
Regular and frequent health monitoring from highly-trained staff
Non-slip floors
Heat lamps with timers
Other subtle design features for wayfinding, safety, and independence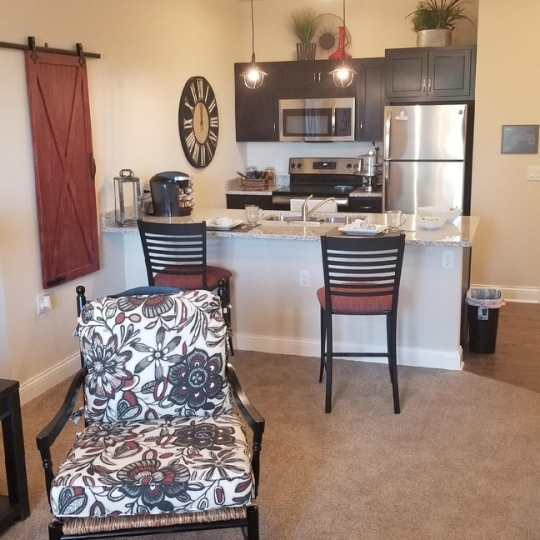 Discover Kettle Park Senior Living
Visit Our Community
We would love to show what makes our community so wonderful. You can find us at the very end of Jackson Street, just past the ALDI.
Email Us
Our Address
2600 Jackson Street,
Stoughton
,
WI
53589